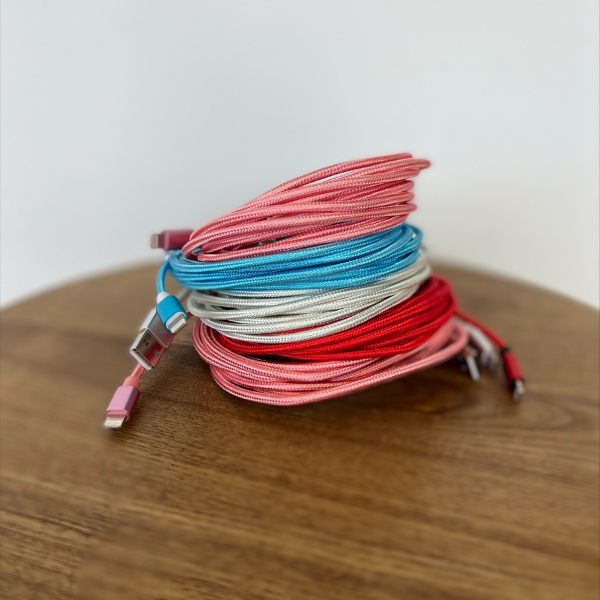 NatalCare Naturally
EXTRA-LONG iPhone Charging Cable (3mtr)
After giving birth, there's one thing that's certain...  you're likely to be spending longer than usual in bed or sitting feeding bubs. Whether you're recovering from a vaginal or caesarean birth, you'll need the time to sit and recover, while also feeding and holding your precious new bundle, and you'll want to have your cell phone close by.
If you're in hospital, a birthing unit or at home you'll need an EXTRA-LONG cell phone charging cord which comfortably reaches from the wall socket to your bed.
Our premium quality, brightly-coloured (so you don't forget them!) cords are a long 3 metres in length.
Tangle-free for ease so you don't spend your time in knots.
Colourful so you don't forget to take with you when you leave.
Compatible with so many different Apple phones and devices (see below).
Braided, nylon fibre outer for added durability.
Easy to curl up without damaging in the inner core.
Get one now so it's one less thing for you to remember!
This tangle free Apple lightning cable is compatible with the latest iPhone iPhone 5/5C /5S, iPad , Mini, iPod Nano 7th generation, iPod 5th generation and more. It will connect any device having a lightning connector to your Mac or Windows computer's USB port helping draw power for charging or syncing data with iTunes. As for wall charging, it is compatible with any adapter with a USB output.
100% Compatible to IOS7 iOS7.3 IOS 8.3. Compatible with: Iphone 5 Iphone 5S Iphone  5C Iphone SE Iphone 6 Iphone 6S IPHONE 6 PLUS Iphone 6S PLUS Iphone 7 Iphone 7 PLUS Iphone 8 Iphone 8 PLUS Iphone X Iphone 10 Iphone XS Iphone XS MAX Iphone XR Iphone 11 Iphone 11 PRO Iphone 11 PRO MAX Iphone 12 MINI Iphone 12 Iphone 12 PRO Iphone 12 PRO MAX iPad mini with Retina display iPad mini iPod touch (5th generation) iPod nano (7th generation)
Shop here for Android/Samsung Charging Cable
SHIPPING NOTE: If you purchase this product at the same time as booking a TENS machine, your product will be shipped (for FREE) with your TENS. If you prefer to receive this item straight away, please place a separate order from your booking.
---
More from this collection