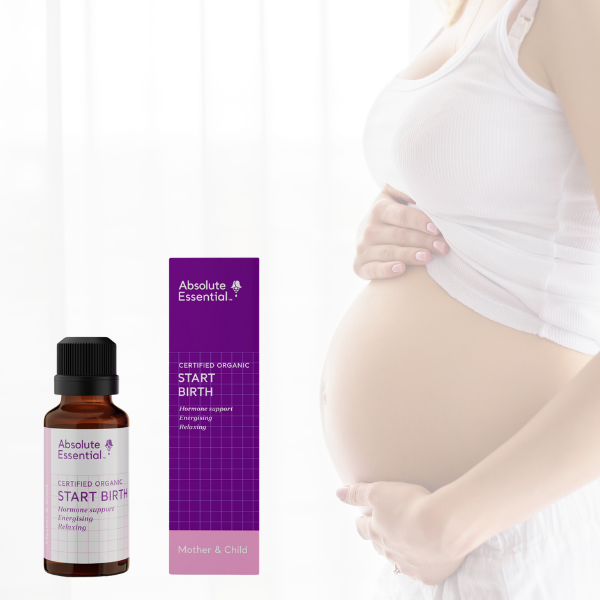 Absolute Essential
Start Birth Essential Oil Blend
Sale price
$39.99
Regular price
$44.99
Stimulate hormone production to bring on labour naturally
Use this carefully and professionally designed blend of essential oils to help induce labour when baby is overdue.
Start Birth contains Clary Sage, which has long been recommended as a method to induce labour. It is a utero tonic meaning it can stimulate the uterus to contract.
Jojoba Oil is the carrier oil in Birth Blend and it is best applied to your lower back 3-6 times a day. 

Always consult your midwife before using essential oils.
Ingredients
Jojoba Oil

 

(organic) Simmondsia chinensis - Traditional use: moisturising & nourishing.
Clary Sage

 

(organic) Salvia sclarea - Traditional use: to help regulate the natural cycle
Tarragon French

 

(organic) Artemisia dracunculus - Traditional use: hormone balancing
Jasmine Absolute

 

Jasminum officinalis - Traditional use: labour inducing, skin care, confidence boosting 
Instructions
Apply directly to small of your back 3-6 times a day.
Always consult your midwife/health professional first for the best time to start.
25ml
Safety Considerations
This blend has been specifically designed for pregnancy and labour, very safe and gentle when used as directed. This blend can be used safely alongside other medicines when necessary. Not for internal use - if accidentally ingested do not induce vomiting but follow with milk or olive oil. Avoid contact with eyes - flush with water. Keep out of reach of children.

Allergies: This blend does not contain nut oils, however, the place of manufacture handles nut oils.

Please note: Therapeutic plant oils are used to support natural body processes for optimum health and wellbeing. The information here is NOT meant as a recommendation to cure any medical condition or disease.
What essential oils are safe for babies and mothers during pregnancy?

SHIPPING NOTE: If you purchase this product at the same time as booking a TENS machine, your product will be shipped (for FREE) with your TENS. If you prefer to receive this item straight away, please place a separate order from your booking.
---
More from this collection